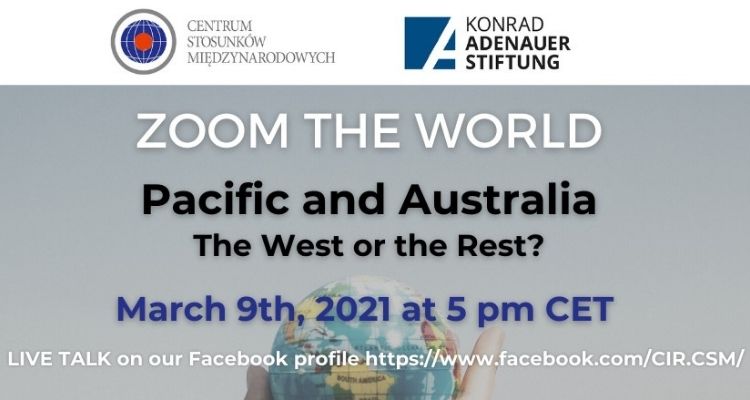 Data/Czas: 09/03/2021 | 17:00-17:00
Lokalizacja: | |
Zoom the World: Pacific and Australia. The West or the Rest? Centre for International Relations and Konrad Adenauer Stiftung in Polen invite you to the next meeting of our series – ZOOM THE WORLD, a live conversation with exceptional guests on our Facebook profile: Centrum Stosunków Międzynarodowych. Don't miss our next discussion : 9th of March at 5pm CET. Our guests will be: prof. Salvatore Babones, University of Sydney, Australia's Globalization Expert; prof. Hugh White, strategist, emeritus professor of strategic studies at the Australian National University.

We will discuss:
– is China a danger?
– what does Australia expect from Biden
– what is Europe's presence in Indo-Pacific?
The conversation will be held in English.
LIVE TRANSMISSION – March 9, 2021 at 5pm CET on our Facebook page: Centrum Stosunków Międzynarodowych.